Affiliate Marketing What's It All About?
With the ever widening innovations of the internet, and technology with cookie trackers capable of predicting which products you're likely to purchase, and interactive web pages. It's know wonder that people have been taking advantage of this important technology. With advertisements popping up, showing products you're looking for.
In the early days of the internet many people would have dodged most
pop-up advertisements
, but these days you have ads, and pop-ups all over the place, appearing on hundreds of websites, enticing you into a good deal.
But somewhere in the world somebody has clicked on an advertisement, and benefited from the product being sold, while the webmaster has gained a small commission for their handy work.
In this game there are no losers, and both parties benefit. Not a penny of cash is taken from the customer until they make the sale. It's a win win situation for all involved.
So where did affiliate marketing begin?
Brief History of Affiliate Marketing
Paying commissions and revenue sharing are not new concepts, but the transition of revenue share principles to mainstream e-commerce began in November 1994, four years after the application of the world wide web.
The idea was conceived and implemented by William Tobin with his company PC Flowers and Gifts, generating sales exceeding $6 million per year, based on a business model that paid a commission on sales to the Prodigy network.
Another surprising pioneer in the field of affiliate marketing was Cyber Erotica, which had its own cost per click program.
By July of 1996 Amazon, via
Amazon.com
, started its own associate program which allowed affiliates to place ads and text links on their websites, linking directly to the Amazon website products. If a customer bought a book from Amazon, a commission was given to the associate. The
Amazon Associate program
has been so popular it's become a model many businesses have tried to imitate.
Things You Need to Know About Affiliate Marketing
To put it simply affiliate marketer's drive traffic to e-commerce sites in return for a commission. This requires the customer to buy a product from a connected link.
The Process
Usually there are four parties involved:
Merchant
A retailer or advertiser looking to increase sales. The merchant gives a publisher a trackable link to his site. The publisher includes this link in his content. The reader/customer follows that link to the retailer's site and buys the product, the retailer pays the publisher a commission on that sale.
Network
Big retailers such as Amazon start their own affiliate programs but go through an affiliate network.
These networks are essentially the middle man between multiple merchants and publishers. This gives the publisher access to various merchants under the same network.
Publisher
These are the blog and website owners, that include affiliate links on their websites to promote the products from their chosen affiliate network, in the hope that people will click on the links and purchase.

Customer
The client or prospect who clicks on the publishers site and purchases something through a link or advertisement.
Start Your Blog and Create Great Content
If you haven't started your own blog or author platform check out my post
How to Start a Self-hosted Blog with Blogger and Make Money Online
. This will show you how to start your own blog today.
Best Affiliate Programs for Writers
You may already be using products or services that have their own affiliate programs or you may want find a few new ones to try out.
When you start affiliate marketing you need to find products that target your particular blog audience. Here are few to get you started:
Amazon Associates Program
If you've already bought items from Amazon you'll know how vast their catalogue of products is. You can choose from thousands of books, gifts, computers, stationery etc. for your blog. The beauty of Amazon is that the more you sell the more commission you earn. I've sold everything from water bottles to scarves.
People don't need to buy the product that is linked on your blog, all they have to do is start filling their shopping carts.
ShareASale
ShareASale is an affiliate marketing network that offers a variety of different affiliate programs to direct sales to the merchant.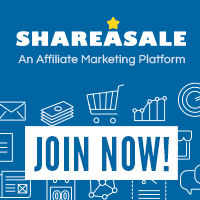 CreativeLive
CreativeLive is a free online school for artists and entrepreneurs and offers thousands of classes to help people learn real-life skills.
Fotor
Fotor is part of the ShareASale affiliate program, a well-known photo editing tool (I use this to create my blog images and book covers) to enhance and create images online.
PicMonkey
Another photo editing tool used by thousands of bloggers worldwide to create amazing images.
Rakuten Affiliate Network
Formerly known as LinkShare, Rakuten offers a plethora of advertisers. I use Udemy advertising on my blog because they have one of the biggest directories of courses online.
Impact Radius
It's very much like the Rakuten Affiliate Network and ShareASale. It houses hundreds of advertisers under one umbrella. Here are a couple of the advertisers I use from Impact Radius:
SkillShare
Skillshare is another learning community online offering thousands of classes in business, writing, blogging, art, design etc.
Hostgator
Hostgator is a global web hosting provider that also offers website building, VPS Hosting, Reseller Hosting, domain names, SEO and so much more.
Bluehost
A very similar web host provider, also has it's own affiliate programme.
How to Promote Your Affiliate Links
The Review Post
You can introduce your reader to a product through an article review. With this article your opinion guides them to understanding why they should buy it.
Things to remember when writing a review a post for your affiliate product:
Choose a product you're likely to use yourself
Write the review in a personal tone
Make sure your review is honest
The How-to Article
You often find that some products require a guide. This is a great opportunity for affiliate product promotion. You can write your own tutorial, or even create a video for the product.
The Coupon Code
Saving money is a huge incentive when marketing a product.
Your aim as an affiliate marketer is to make sure the customer clicks the affiliate link, otherwise the sale won't count.

The Featured Post


Whether its a review post or coupon code post you need to point your readers to it to get the most views possible. On Blogger its a "Featured Post".
Add a Banner on the Sidebar or Bottom of the Page
Banner ads work well with a larger audience, the fewer the better. Too many and it will put people off visiting your blog.
Integrating Affiliate Links
Add affiliate links to as many relevant blog posts as possible. Go through old blog posts and add appropriate links.
Promote Affiliate Links on Social Media
Use Twitter, Facebook and Pinterest to promote your links. I find Twitter a great place to market affiliate links, make sure you let your followers know its ad by using hashstags such as #Ad.
Make Sure You Disclose
With all advertising make sure you have a disclosure on your blog post and on your blog front page.
Extra Promotional Tips:
Create a series around a product
Write a comparison post
Create a post when a product adds a new feature
Create a Resource Page
Be Transparent with a Disclosure Policy
If you're selling other peoples products you must let all your blog visitors know by simply adding a disclosure notice on your blog front page, each blog post that contains affiliate links, and in your Terms and Conditions page. It may not sound important but not doing it could get you into a whole lot of trouble!
The FTC or Federal Trade Commission wants all affiliate marketers to make a clear disclosure of all affiliate links.
Outcome: A Revenue Stream Requiring Low Investment
Don't look at affiliate marketing as the be all and end all of making money on your website.
Try other ways of making money like writing eBooks or selling courses, and stick to products within your niche and you can't go wrong.
Share this post with your friends!